HEALTH, SAFETY & ENVIRONMENTAL STANDARDS
Hampel Oil has five core values. Number one is Safety.
The goal of Hampel Oil Distributors, Inc. is to be a recognized leader in the industry through the commitment and value we place on safety, the well-being of our employees and our respect for the environment. We focus on these areas while delivering world-class products and services to our customers.
The effective leadership we have in place has created a culture that encourages our employees to make the right choices. This behavior has allowed for a workplace where our employees delivery quality services that exceed our customers' expectations, maintain a work environment that is rewarding, and conduct business with the highest ethical standards.
Hampel's leadership sets clear expectations, observes, coaches and ultimately holds employees and contractors accountable for health, safety and environmental (HSE) performance. It is expected that line managers communicate, implement, and ensure compliance with HSE policies and standards.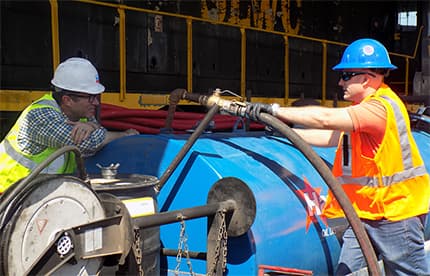 We are committed to:
Eliminating HSE accidents
Complying with applicable legislation, regulations, and industry standards
Effectively identifying and managing HSE risk
A culture where "Stop Work" is an individual obligation and company responsibility
Setting HSE performance objectives, measuring results, assessing and continually improving processes through the use of effective management systems
Integrating HSE matters into all business activities
Meeting specified customer requirements and ensuring continuous customer satisfaction
Minimizing our impact on the environment
Implementing the latest safety technologies on our equipment and maintaining a high standard of safety training for every employee
Rewarding outstanding HSE performance
This policy, along with other standards, laws, and regulations, provide the basis for success and add value to the employees, customers, and communities in which we operate.