VALUING CREATION IS ONE OF THE CORE VALUES AT HAMPEL OIL
We work to achieve this by hiring and retaining employees who believe success is achieved through the success of our customers. This is not just a sales belief; it is a belief throughout our entire organization.
A focus on superior customer service, relationships and premium products are the tools we utilize to bring value to your business on many different levels. Value can also be seen in our six-step customer promise:
We will do our job safely.
We will arrive on time.
We will be professional.
We will respect your property.
We will communicate effectively and be responsive to your needs.
We are dedicated to 100% customer satisfaction.
The Hampel Brand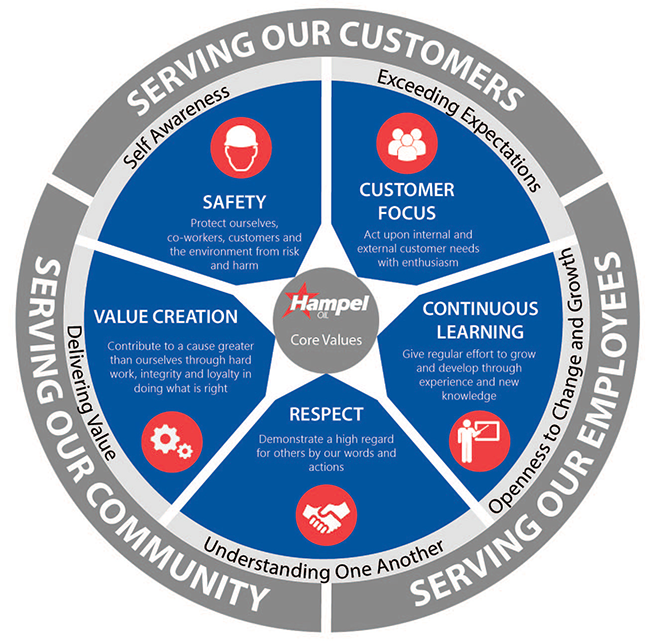 OUR PURPOSE
Make our customers successful by advancing their productivity
OUR VISION
Achieve sustainable growth by delivering distinctive value to our stakeholders
OUR MISSION
Earn trust by keeping promises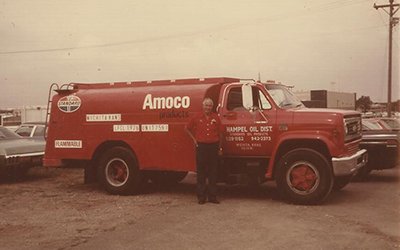 HISTORY
Hampel Oil Distributors, Inc. started as a family-owned and operated business in 1976, when Al Hampel, who worked for the Standard Oil Company beginning in 1946, delivering fuel to companies and contracting firms, was asked to become an independent distributor for Amoco. Now, with eight locations throughout Kansas, four in Oklahoma, three in Texas, as well as locations in Kansas City, Arkansas, and Pennsylvania, Hampel Oil remains to this day a family-owned and operated business that continues to grow with the times.
The expertise of our employees enables Hampel Oil to be a resource for our customers in a rapidly changing fuel and lubricants industry.
Hampel Oil's exemplary Customer Loaned Equipment (CLE) Department offers equipment loan programs: lube vans for construction site bulk lubricant storage, transport and tank wagon delivery, along with in-house or on-site fuel and lubricant lab services. Our CLE Department is focused on custom-designed equipment for our customers to make your job easier in production and to keep things going smoothly with easy access by Hampel Oil's employees in refilling tanks and managing any obstacles that may arise.